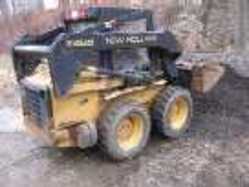 When you're in the process of re-envisioning, reinventing, or renovating your yard or landscape, let the professionals at Erik's Hauling and Moving do the heavy lifting! In addition to our garbage removal services, our professionals also provide bobcat service for excavation, grading, and more. We can help you transform your property into the landscape of your dreams–call today to learn more.
Digging holes, moving heavy objects, and grading are all major undertakings if you don't have the right tools or expertise. That's why Erik's Hauling and Moving is here to help. Our fleet includes bobcats and skid steers, and our pros have the knowledge and skill to use this equipment to competently shape your property. At Erik's Hauling and Moving, our bobcat service includes:
Excavation
Tree stump removal
Grading for landscaping, driveways, and more
Holes for water features, ponds, and fountains
Rock removal
And more!
We're ready to help you get the excavation, grading, and more you need to help beautify your commercial or residential property, so don't let the prospect of all that digging derail your dreams. Erik's Hauling and Moving is your solution for bobcat and skid steer service in Pittsburgh. Sit back and relax while our qualified professionals handle the excavation and grading. We're here to help with the heavy work to ensure you get the gorgeous landscaping you deserve!
As always, we emphasize expert workmanship, superior customer service, and affordable pricing for all of our bobcat and skid steer service.  Have questions? Just call or e-mail today for more information.