Whether you're clearing out overgrown bushes or just doing a major spring yard clean up, lawn and garden maintenance can create a lot of trash and debris. Get all of your yard waste hauled away with help from Erik's Hauling and Moving. In addition to our garbage removal services, we also provide professional yard waste collection. With our fleet of dump trucks and trailers as well as expert haulers and drivers, our team has what it takes to provide complete yard waste cleanup. From branches and weed piles to trees, leaves, and more, Erik's Hauling and Moving is your answer for yard waste collection in Pittsburgh.
Large brush, leaf, and yard waste piles can make your property look unsightly and even unkempt. It's important to have all of your lawn and garden debris completely removed from your yard to ensure your landscaping can look as neat and beautiful as possible. But dragging heavy branches and hauling loads of debris to the dump is awkward, time-consuming, and, frankly, just a real pain. But with Erik's Hauling and Moving, you can sit back and relax while we do all the work. Our experts provide complete yard waste collection and removal services, hauling away all of your unwanted yard junk. And unlike some hauling companies, we take it all: there are no restrictions on what types of garbage and yard waste we'll haul for you! Concrete from old patios, fallen trees, leaves, brush, tree stumps, and so much more–with one call, we haul it all!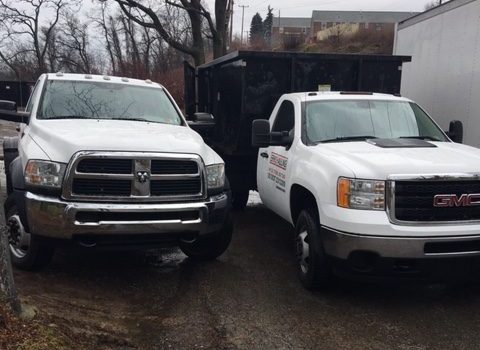 Top-Quality Customer Service
Why choose Erik's Hauling and Moving for your yard cleanup services? Well, the better question is why not! At Erik's Hauling and Moving, providing you with the very best customer service is our number one priority. We combine courteous pros with careful, complete yard waste cleanup and removal, ensuring you get the service and quality you deserve. We're proud to offer:
Same-Day Hauling Services
Affordable, Upfront Pricing
Trucks Sized to Your Specific Needs
So if you're in need of a professional hauling and moving company to help with yard cleanup services, Erik's Hauling and Moving would love to help. Contact us today for additional information on our yard waste removal services and your commercial or residential property!